Rob and I go through periods where we are completely bored with our regular meals. The other night, after groaning about having another meal of chicken, broccoli, and brown rice, I researched some casserole recipes. Unfortunately, most of them used cream of mushroom, or cream of broccoli, and we did not have either. The hunt was on.
One of the things I love about cooking is taking a few ideas from a few different recipes and seeing how it turns out. Enter this Lightened Up Chicken Broccoli Rice Casserole.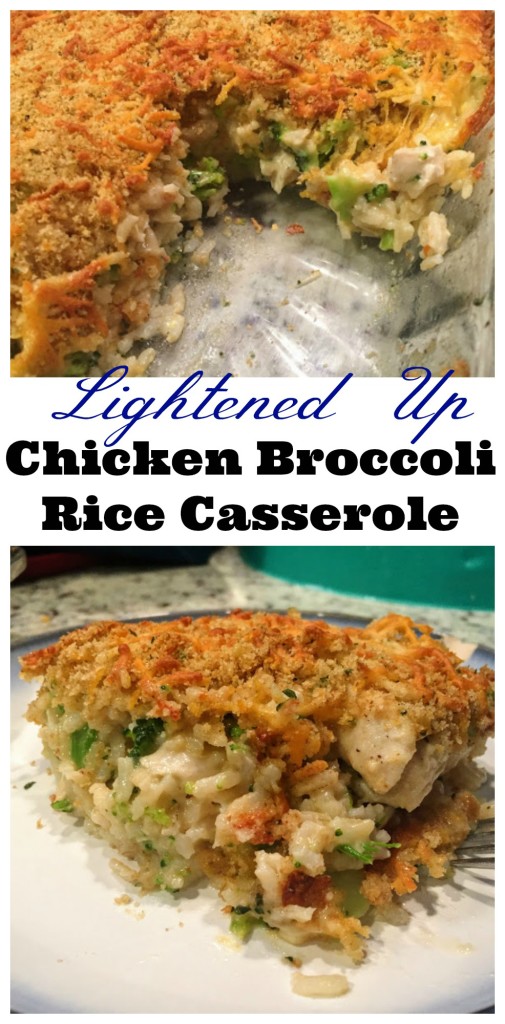 The breadcrumbs make a tasty top crust and the chicken broth roux was light and creamy. Definitely a winner as Rob and I devoured a good portion of the dish for dinner. It also reheats very well, so we were able to eat if for lunch and dinner over the next few days. The whole dish makes about 8 servings.
To save on time, use Uncle Ben's Instant Brown Rice
, or pre-cook the rice during a meal prep day.
Lightened Up Chicken Broccoli Rice Casserole
Ingredients
1 pound boneless, skinless chicken breast
1 cup uncooked brown rice
2 cups uncooked broccoli, cut to bite sized pieces
1 tablespoon avocado oil
3 tablespoons whole wheat flour
1 can chicken broth
1 ½ cups 1% milk
¾ cups breadcrumbs
1 tablespoon butter, melted
1 ½ cups Colby Jack shredded cheese
Cayenne pepper to taste
Salt and pepper to taste
Instructions
Preheat oven to 400 degrees Fahrenheit
Cube chicken and onions.
Season to taste with salt, pepper, and cayenne pepper.
Bake at 400 degrees for 15-20 minutes, or until chicken is cooked through.
While chicken is cooking, cook rice and steam broccoli.
Add the rice and broccoli to the chicken and onions. Mix together.
Mix in cheese to taste, about 1 cup
Make the roux. To do this, heat the Avocado Oil in the same pan you cooked the rice. Add the flour and stir until loosened. Continue to stir for 5-7 minutes. Slowly whisk in the chicken broth and then the milk. Continuously stir until thickened.
Pour roux over chicken, broccoli, rice mixture and mix together.
In a separate bowl mix together bread crumbs, half cup of cheese, and melted butter. Sprinkle over top of casserole.
Bake at 400 degrees for 10-15 minutes, or until top layer is golden brown and cheese is melted.
Let stand 5 minutes before serving.
http://www.wreckingroutine.com/2017/01/30/lightened-up-chicken-broccoli-rice-casserole/
RQ: Where do you get your recipe inspiration when you're tired of your meals?