Can you believe January is almost over? I feel like the first month of 2017 has absolutely flown by. The good news is that I am finally starting to write the correct year on the board without thinking twice. My students were really enjoying pointing out my error for the past few weeks though.
With a new year comes new resolutions. With new resolutions comes the depressing statistic that 82-90% of resolutions are not successful. And with that statistic comes Buddy Boot Camp!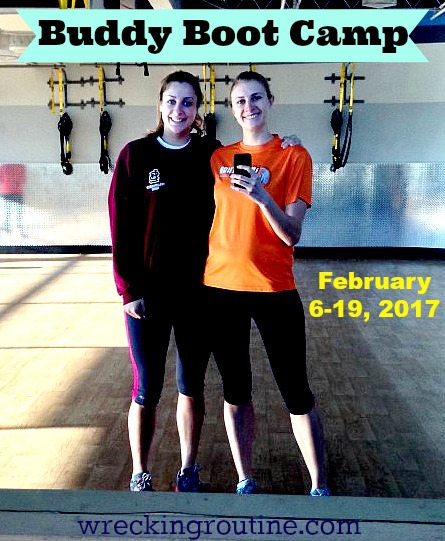 What is Buddy Boot Camp?
Buddy Boot Camp is a two week health and fitness program in which you are a paired with a buddy to help keep you accountable. You and your buddy will be responsible for:
Completing the same 10 workouts over 14 days,

Motivating each other to workout, eat well, and reach your goals, and

Working through a resolution journal individually to ensure you are as successful as possible.
Why should you do Buddy Boot Camp?
It is the perfect time to keep yourself extra motivated and focused on your new year goals. About 30 days into a new habit is when you are able to make that habit stick, or go back to your old ways. With Buddy Boot Camp you will get 10 workouts that you can continue to reference even after boot camp, a resolution journal to help you think through the logistics of your goals, and double accountability from both your buddy and from me. In addition, you will have a community of people to check in with through the Wrecking Routine Health and Fitness Facebook Group.
What fitness level do you need to have to do Buddy Boot Camp?
I don't recommend this program if you are starting from zero in your fitness. I do recommend it for those who are at least slightly to moderately active as you will be required to completed 5 workouts per week. Every move has a beginner modification and advanced progression so you can tailor the workout to your fitness level as needed while still building strength and endurance and burning calories.
What are the dates of Buddy Boot Camp?
Buddy Boot Camp will run from Monday, February 6 to Sunday, February 19. Buddy Boot Camp documents and buddies will come out on Saturday, February 4 so you have plenty of time to prepare and engage with your partner.
How do I sign up for Buddy Boot Camp?
Just click the link below to head on over to Paypal. There are two different options:
$30 for both you and your self-chosen buddy. This is the perfect time to enlist a friend to join you!
$20 for an individual in which you will be buddied up with another individual.
If you have any questions or concerns, please do not hesitate to contact me. You can leave a comment, or send me an email at wreckingroutine@gmail.com. I look forward to working with you!
RQ: How do you keep yourself accountable to your resolutions?